In February 2019, the Kameno Home Wine Festival will be held.
According to the official portal of the Kameno municipality, in the city of February 14, 2019, on the day of St. Trifon Zarezan, which coincides with the holiday of Bulgarian wine-growers and wine-makers, the III Festival of homemade wine will be held.
Registration of participants will be held until February 10 inclusive.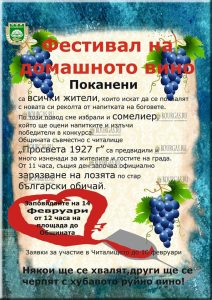 As it became known, on this day, according to the already established tradition, the participants of the festival and the audience will gather in the Square.
The jury, which will include well-known sommeliers – will determine whose wine this year will be the best. Win awards will receive awards and prizes, and viewers will also be able to participate in the tasting.
Recall, on February 14, ritual pruning of the vine is carried out throughout Bulgaria.